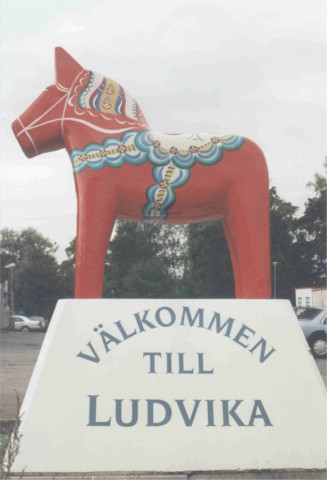 Life in Ludvika
Ludvika is where we live!

Ludvika lies in central Sweden around Lake Väsman, approximately 220 km northwest of Stockholm. The town population is about 13494 but with outlying areas covering a land area of 1658 sq km, the council population is 25425 (Dec-2007). Of these, 2938 people are from overseas and 951 are non-Swedish citizens. Ludvika is essentially a small country town with forests and lakes in its centre and all around. It has a long history of mining and industry, and even today the town exists to support ABB, which was founded here on June 30, 1900.
Ludvika is like small towns everywhere, with both its good and bad points. It has been said that "Ludvika is a terrible place to visit, but a wonderful place to live." With only one cinema, one real pub, limited restaurants and discos/nightclubs added to the high price of alcohol, there is not much of a nightlife for the visitor.
However, once you become a member of the community, a whole range of new opportunities open up - not least if you enjoy the outdoor life. Forest walks, cross-country skiing, slalom skiing, ice fishing, skating, berry and mushroom picking are just some of the activities possible virtually straight out your front door. An extra bonus of being only a small town, is that it doesn't take much effort to get around compared to the big cities.
Ludvika is in the province of Dalarna, which is the heartland for many Swedish traditions and is considered to be the most typically Swedish of the country's 21 provinces. It captures the very best of the country's finest qualities and offers a slower pace of life, with more old style values - which is just the way we like it!
---
Ludvika Weather




If you have any suggestions or questions about life in Ludvika ...
---